Restoration Services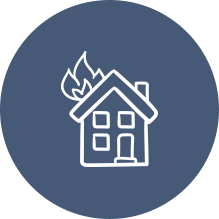 University Cleaners' restoration professionals have over 25 years of experience in cleaning and restoring fire, smoke, water, and mold damaged textiles. We use state of the art methods to clean and deodorize textiles to restore your possessions to their pre-loss condition. We also work with your insurance carrier and restoration contractor throughout the process to streamline the textile cleaning portion of the overall claim process.
Our Textile Restoration Process
Step 1:

Call Us! We understand how disruptive and devastating a disaster to your home can be for you and your family. As soon as we receive the call (whether from the insurance carrier, restoration contractor, or customer), our staff will respond quickly to begin the garment and overall textile removal and cleaning process.

Step 2:

Following an initial call, we meet you, the customer, at your home to explain our process. Then, we remove all restorable items from the house, room by room, and return to our facility to inventory each item prior to the cleaning process.

Step 3:

Following the removal and inventory process, we clean, deodorize, and store your items at our facility until the restoration process at your home is complete. Should you have items that you need returned right away, we will work with you to ensure you have access to such items during the restoration period.

Step 4:

Once your home is fully restored, we deliver your items and place them in the proper locations. We hang clothing back in your closets, rehang your window treatments, and organize your items to ensure a smooth unpacking process.

Items We Clean & Restore:

Clothing
Shoes
Window Treatments
Bedding
Linens
Stuffed Animals
Purses/Handbags
Leather, Suede, & Fur Garments
"I would like to express my sincere appreciation for the work…I thank you for your understanding, patience, compassion and kindness during the time of restoration. Thank you for taking the time to ensure I was apprised of the work at every juncture of this process. This speaks volumes and is reflective of the professionalism of you and your organization." Restoration Customer"
-T. Shelton.